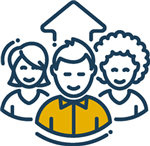 Students Not Enrolled in LISD
(Out-of-District Students)
Registration Process and What to Expect:
1. Complete your course request by selecting this link: Course Request
2. Upon submission, your request will be reviewed by our office.
3. Check your email! Our office will confirm your request via email.
4. Once your course is approved, you will pay for your course through our online Web Store.
5. Look out for Orientation dates for each term you are requesting a course. We will notify registered students as those dates become available.
Save